Pre-registered competitors 23 / REGISTERED COMPETITORS 105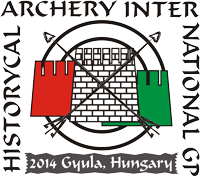 Historical GP 2014
6th of June 2014, Gyula, HUNGARY, Castle of Gyula
Invitation
As Chairman of the Organising Committee and on behalf of the HDH-IAA, I am pleased to invite you to the HDH-IAA Historical Archery International Grand Prix 2014.
The Competition will take place 06th–08th of june 2014 and will be shot according to the HDH-IAA rules and regulations.
The event is open to all competitors.

See you on historical city,
Lovász Tamás
Chairman of the OC
A nevezési díj befizetési lehetőséget meghosszabbítjuk május 30-ig!!!
we extend the entry prize payment opportunity until 30th of May!!!!
---
Magyar nyelvű kiírás